What is an Emergency Communication Hub?
The City of Seattle's Office of Emergency Management is coordinating with community volunteers to set up Emergency Communication Hubs that can be activated during a major emergency to share information between neighborhoods and the Seattle Emergency Operations Center (EOC). Many of these volunteers come together through their neighborhood blockwatch and SNAP programs.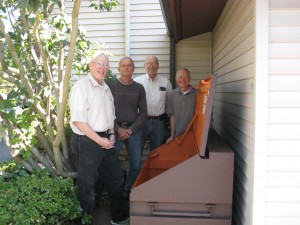 These hubs may be set up at a church, in a park or other public place that has been chosen in advance by that neighborhood's volunteers. The purpose of the hub is to organize local resources and communicate life-threatening emergencies to the EOC. Emergency communication hubs are volunteer organized and do not substitute for each home and block being prepared. Instead, the hubs allow neighbors to meet needs and share resources during an emergency as police and fire departments may not be able to respond to most needs during the three days after a disaster.
Broadview's Emergency Communication Hubs
Broadview Blockwatch volunteers have been meeting for many months to set up emergency communication hubs in our neighborhood. The map below shows their planned locations.
North Hub: Luther Memorial Church, 132nd St NW and Greenwood Ave N
South Hub: Grace Evangelical Church, 112th St NW and Greenwood Ave N
Note that we may need to adjust the location or relocate a hub if its designated spot is unsafe. If we activate the emergency communication hubs during or following a disaster, we will put up signs with our Broadview Prepares logo to help identify the locations.
Please, do not attempt to go to one of the Emergency Communication Hubs if you feel that doing so would put you in danger. The Emergency Communication Hubs may NOT have supplies or provisions immediately following an earthquake or similar disaster. The primary role of the Emergency Communication Hubs is communication and information sharing between individuals, neighborhoods and agencies or officials.
Below is a link to a map (pdf file) showing all of the currently planned hub locations throughout the City. This is a process that is constantly growing and changing, so this map is only meant as a general reference of the extent of the hub program, as opposed to a detailed and specific list of hub locations.